ALL SERVICES ARE FREE & CONFIDENTIAL
(NOTE: In most locations, our services are available for family members from pregnancy through a child's second year. Beginning this year, services are provided through a child's 5th year at our Nipomo location, as well as through the Child Development Resource Center in San Luis Obispo https://www.childrensresource.org/)
SERVICES:
Services by appointment only. Call (805) 541-3367 to schedule.
Bilingual, bi-cultural staff
Case management
Infant development assessment
Parenting education classes
Car seat education and installation
SUPPLIES:
Maternity and baby clothes
Infant supplies and equipment
Prenatal vitamins
Baby formula, food, and cereal
SUPPORT:
Education about Fetal Alcohol Spectrum Disorder (FASD)
Support and referrals for Postpartum Depression
Referrals to community agencies for assistance
Library of videos and books that may be checked out
Printed educational materials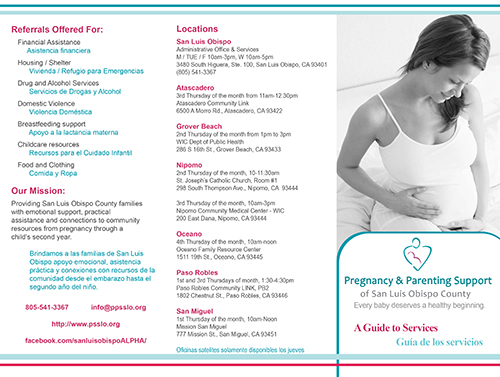 We are dedicated to giving you and your baby a good start!